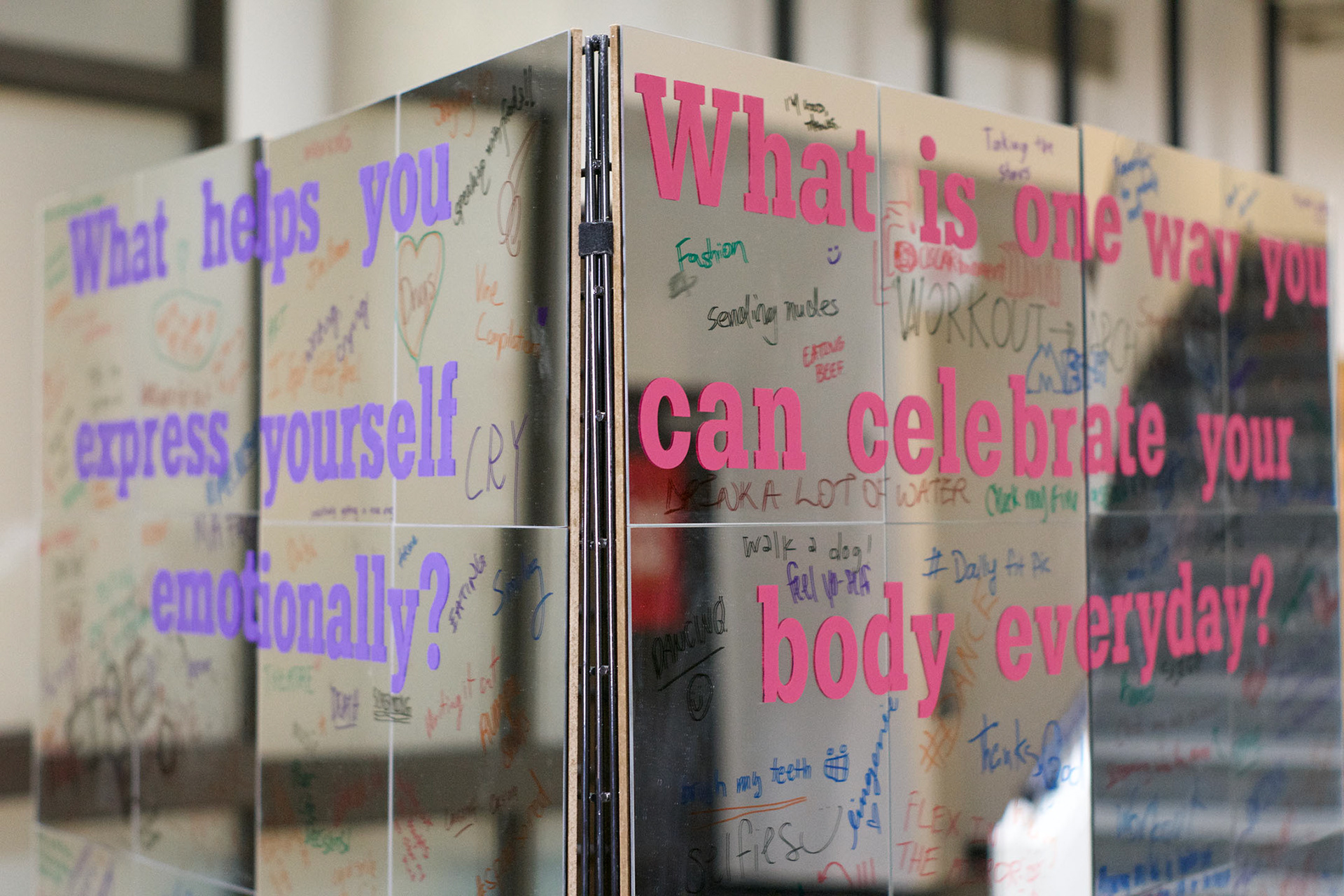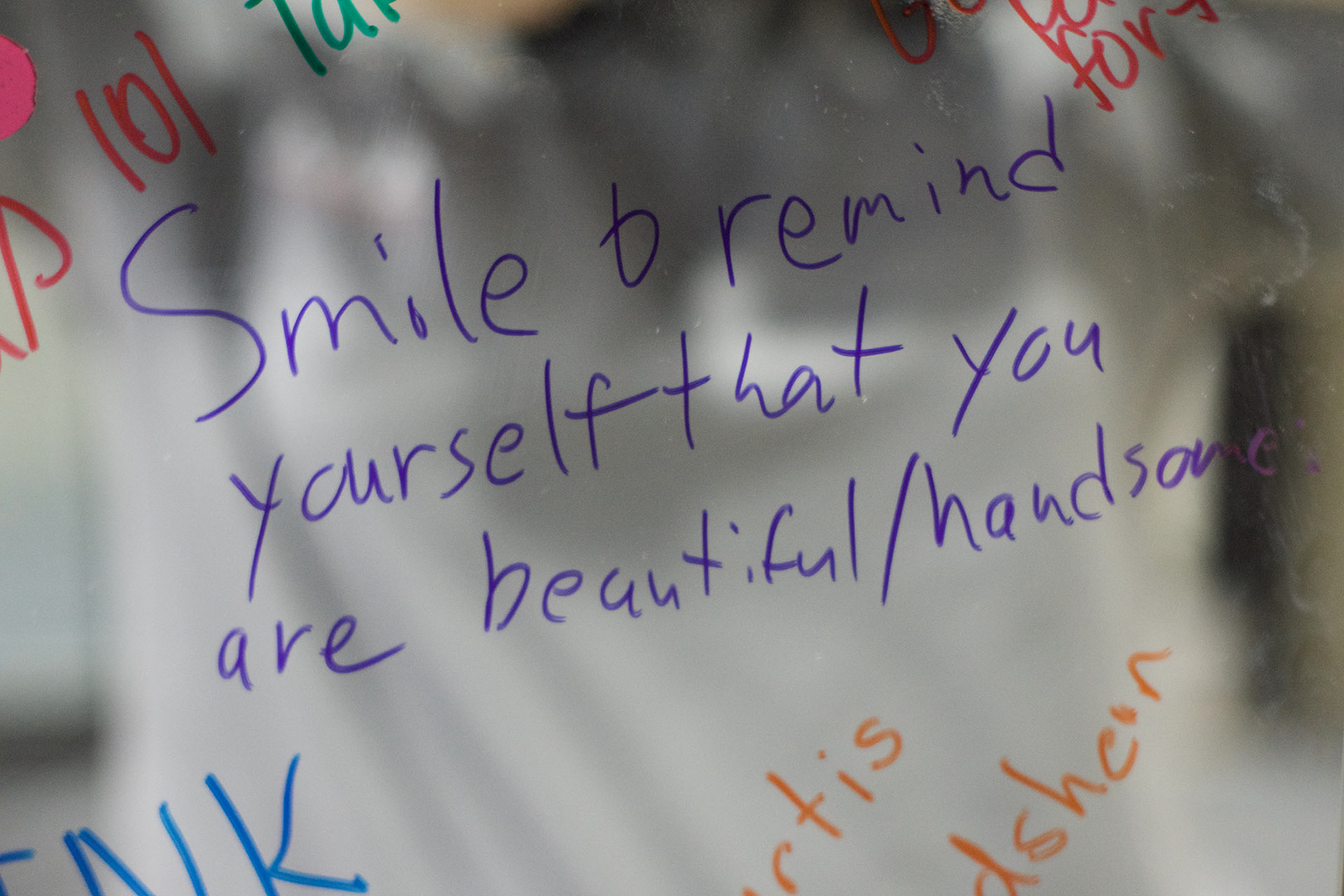 This project was an exploration into the field of experiential design, specifically in creating exhibition displays that require audience interaction. I have had an interest in studying experiential design ever since meeting with a firm out of Kansas City that specializes in this area. For example, educational interactive displays for children in museums or a large audience participation project like "Before I Die" by Candy Chang.
For this project, I researched experiential design in context to instigating conversations about social change. The theme to the project was a body image campaign in relation to mental health. The exhibition for this project included 12"x12" mirrors that were assembled into three 4'x4' panels that could be viewed in-the-round. Each panel contained a question related to body image and mental health. Overhead Expo markers were provided for the audience to write answers to the questions on the mirrors, and they could also choose to take a picture of themselves and post to social media with the provided hashtag.
Body image and mental health have become hot topics as light is shown on women and men between puberty and 55+ years old who are going to extremes to look like the air brushed and photoshopped models they see on the cover of magazines. Pop culture and social media play a huge role in what people think is socially acceptable and then degrade themselves or others for being different. These actions to fit within what the media deems as acceptable for society are creating mental health problems such as anxiety, depression, food disorders and obsessive compulsive disorders. The purpose of this exhibition was to instigate conversations in and around its environment about body image and mental health. The conversation could also be moved to a social media platform if participants chose to post a picture to social media with the provided hashtag in the bottom right corner of each mirror panel.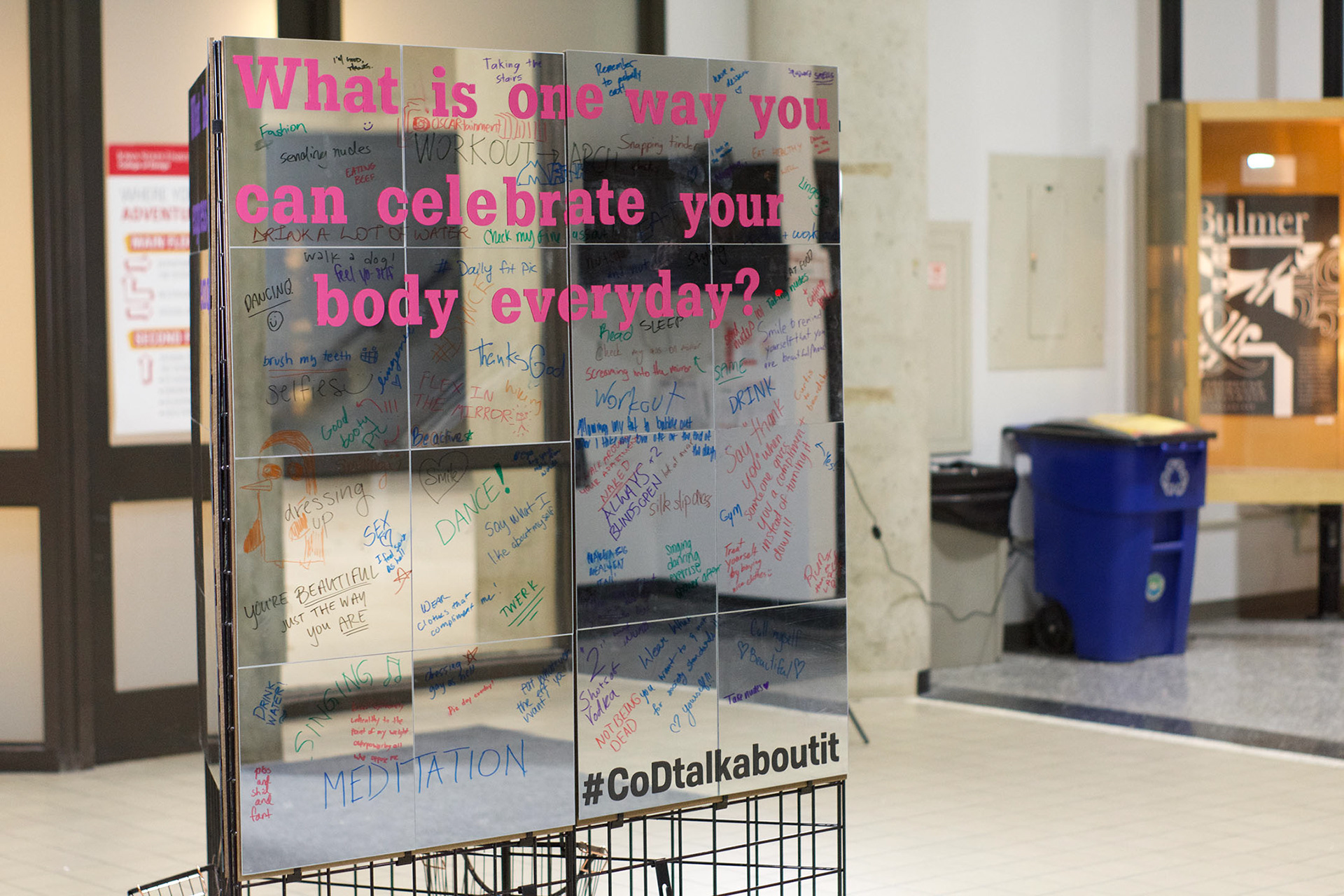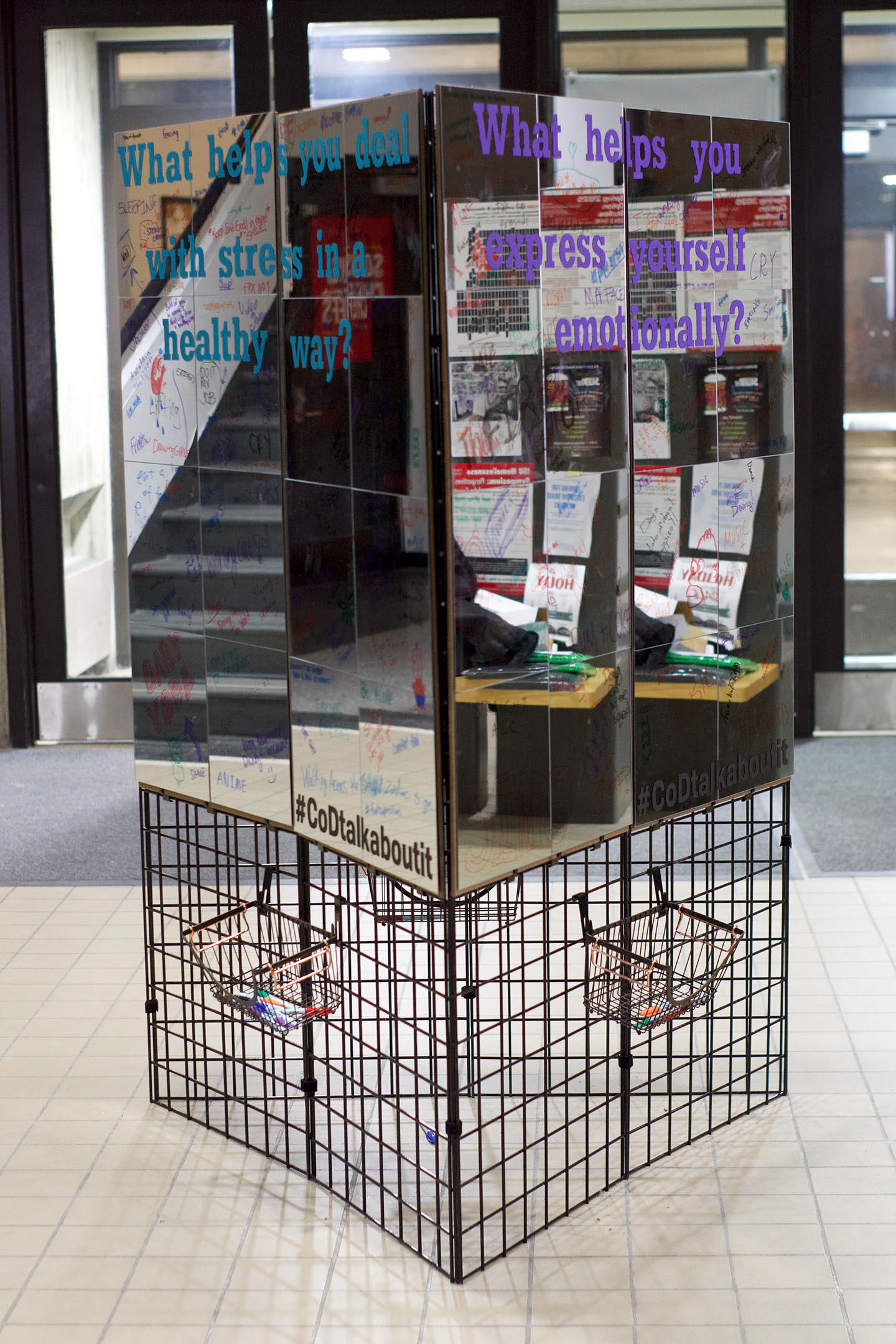 Purple Question:
What helps you express yourself emotionally?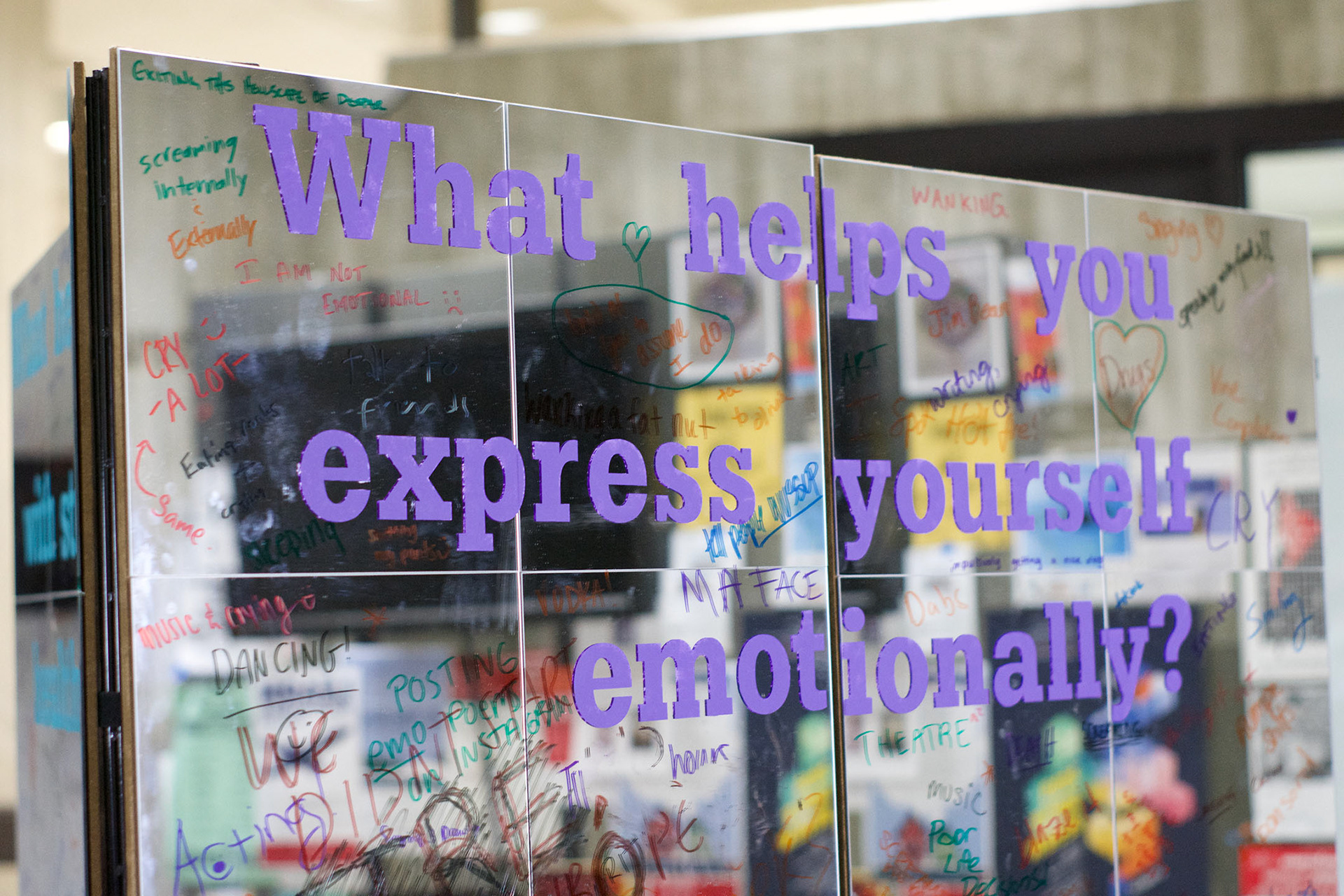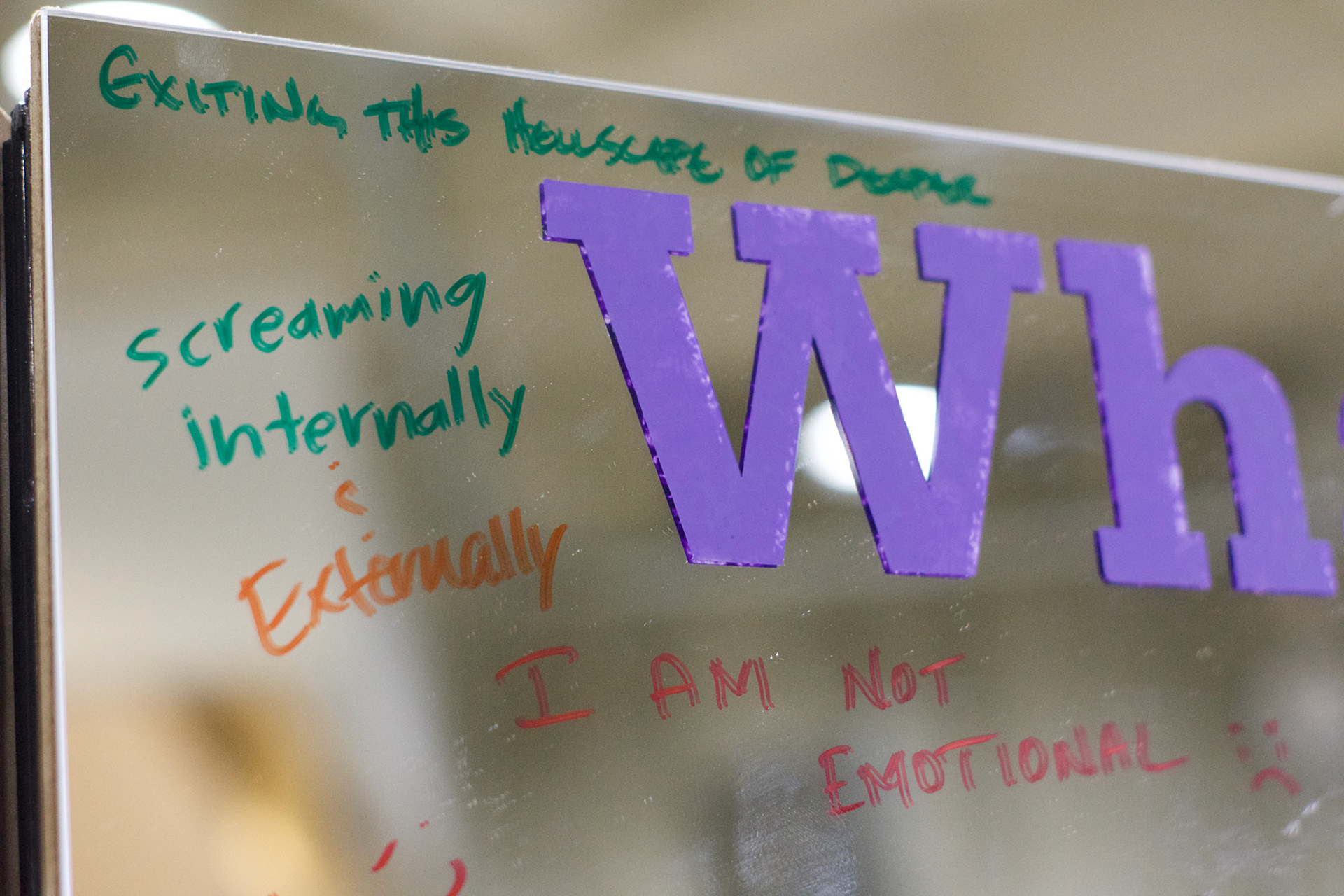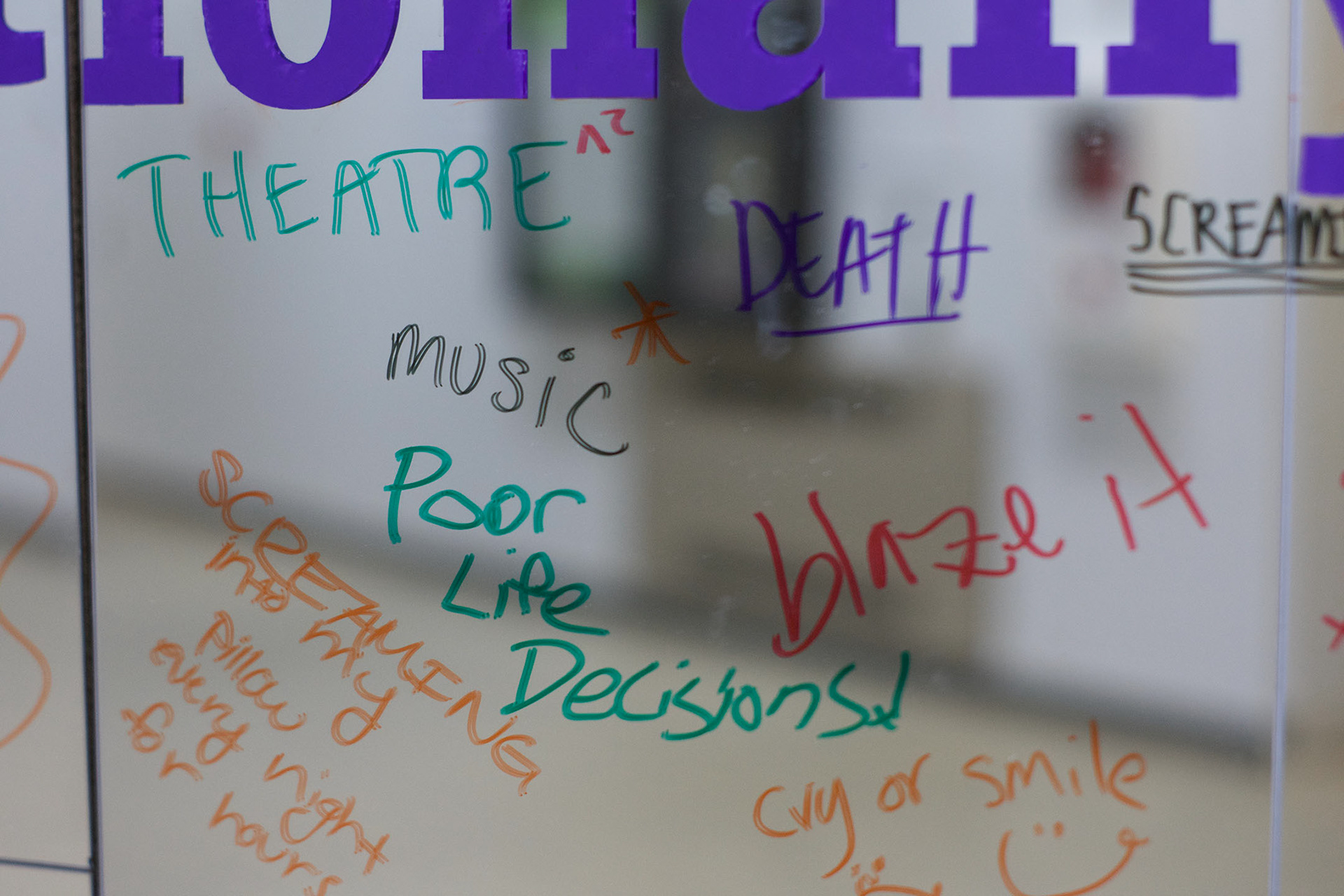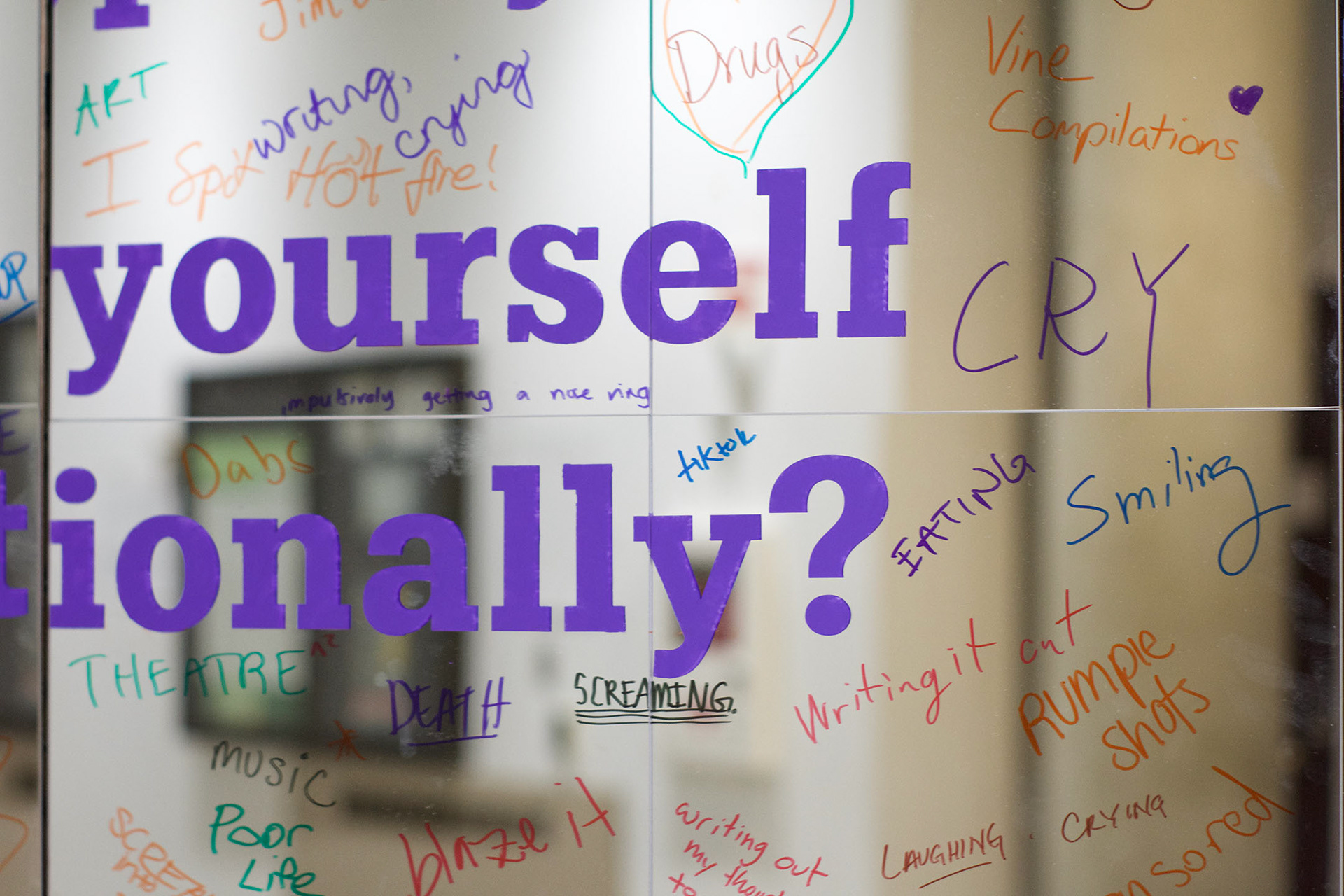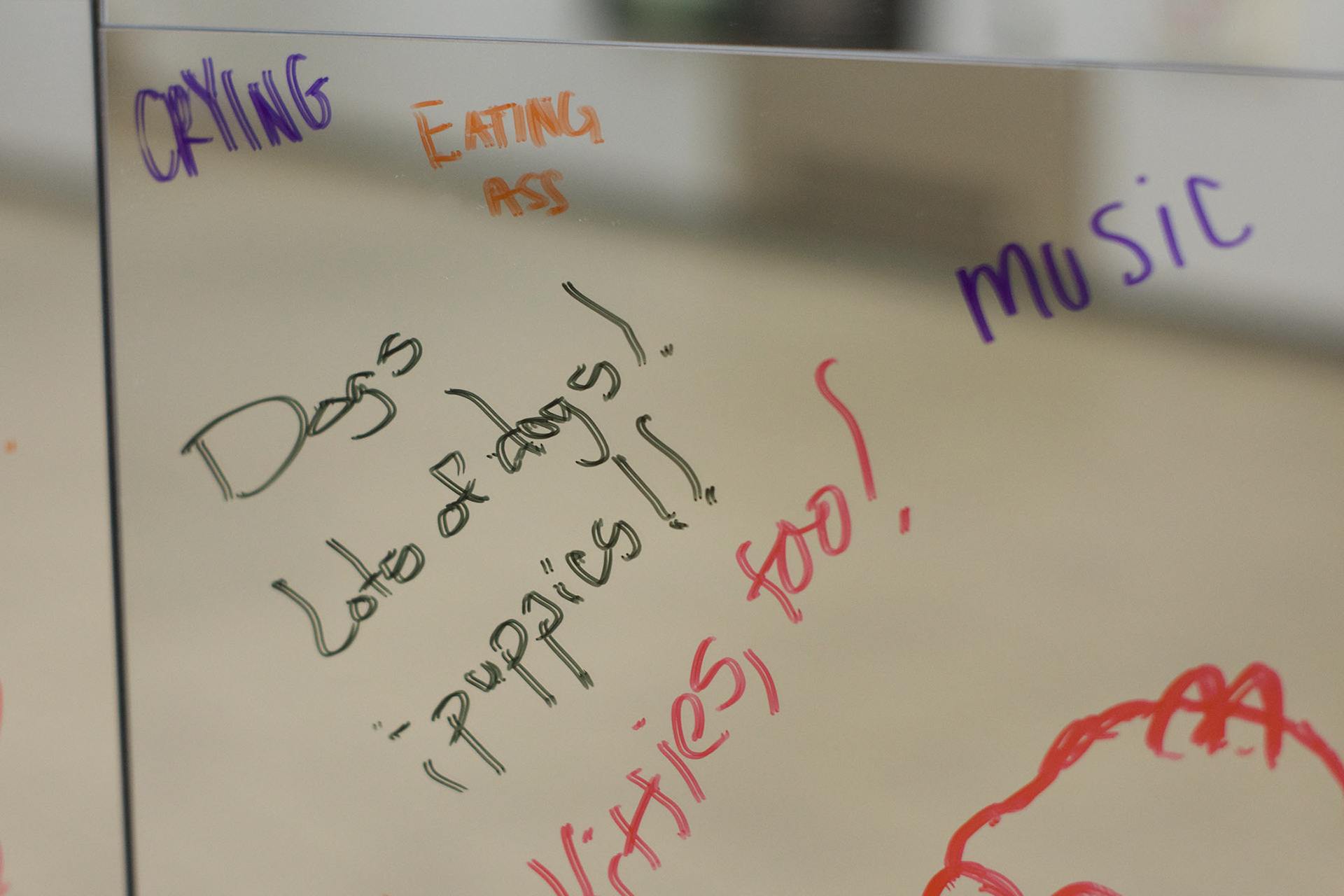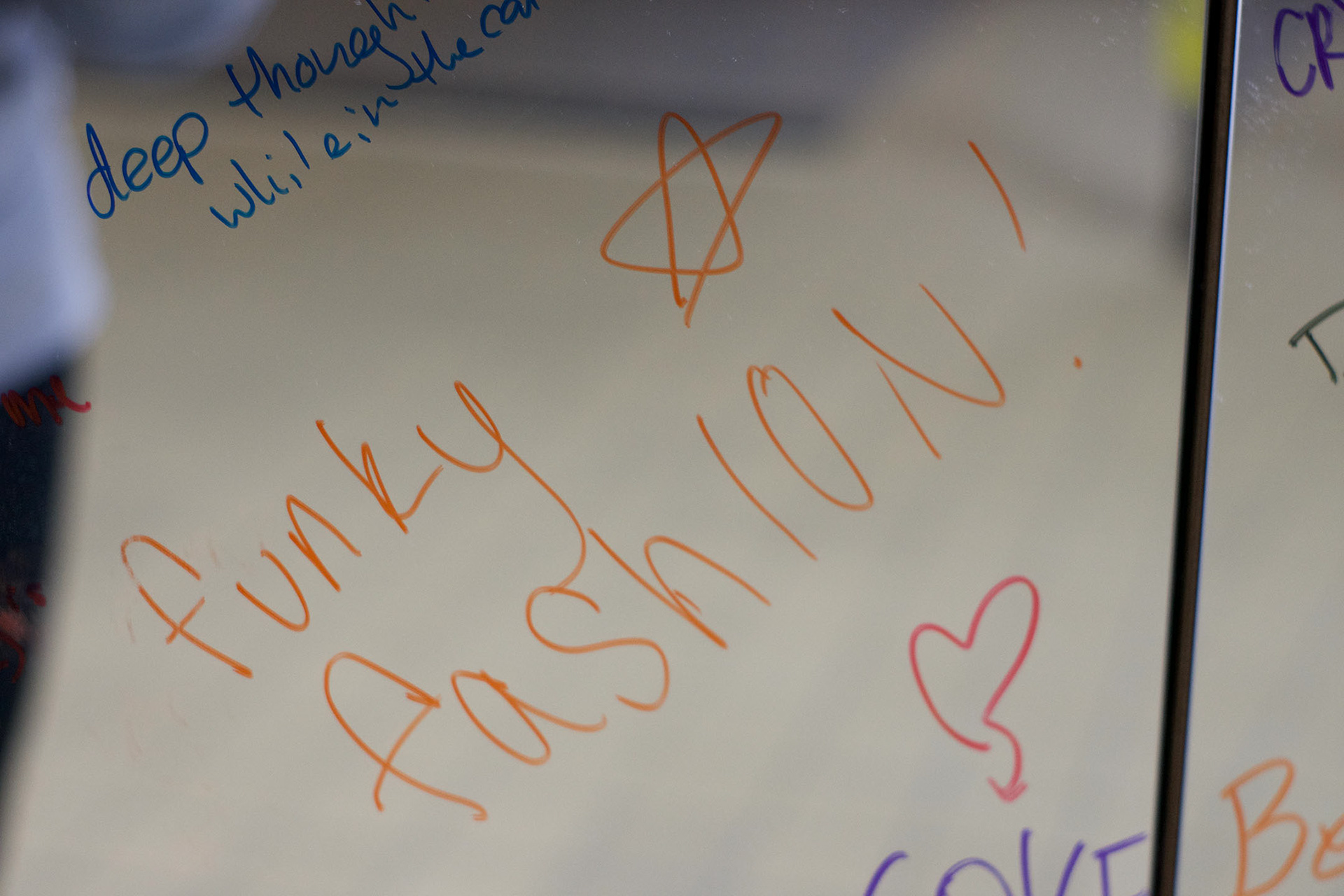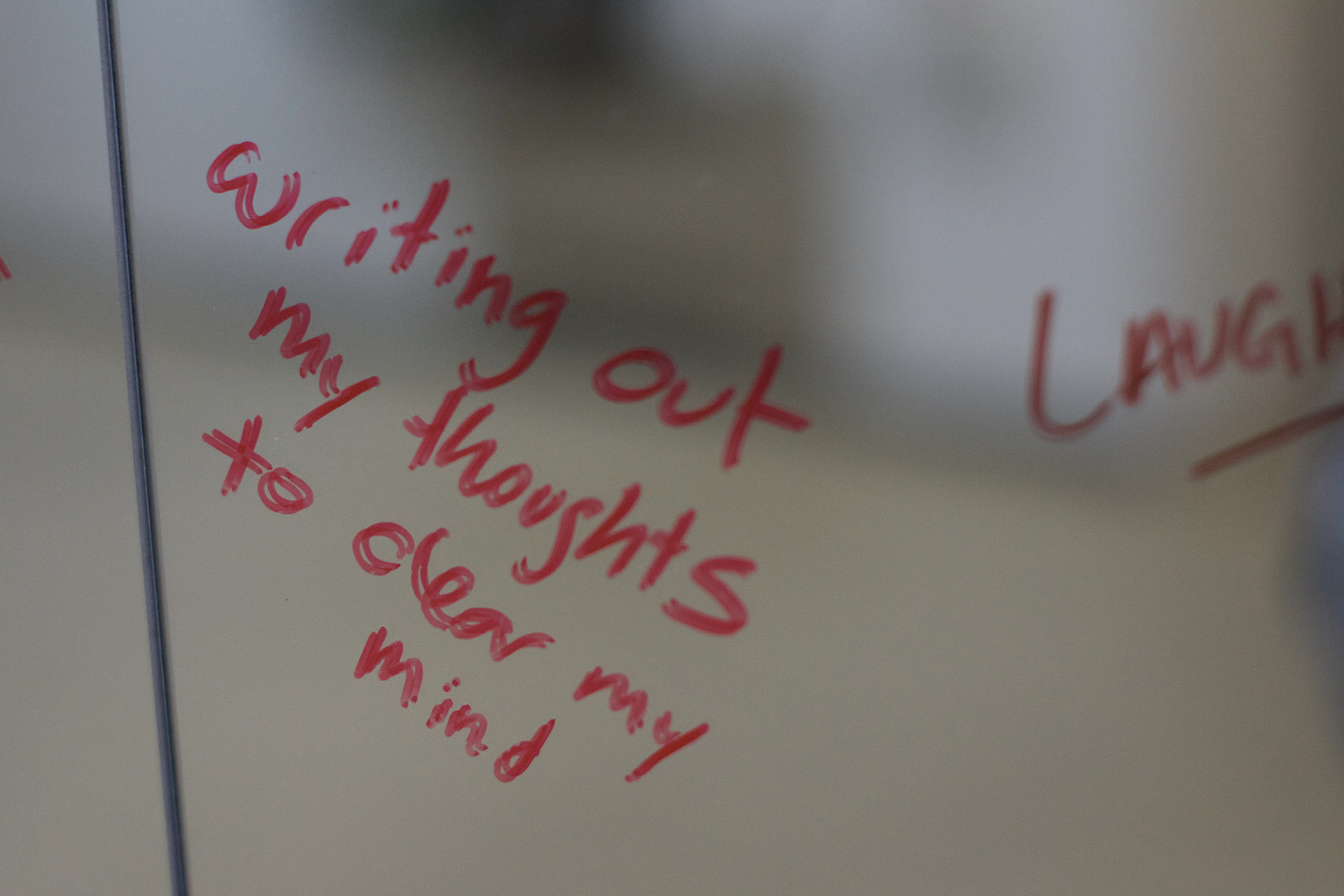 Pink Question:
What is one way you can celebrate your body everyday?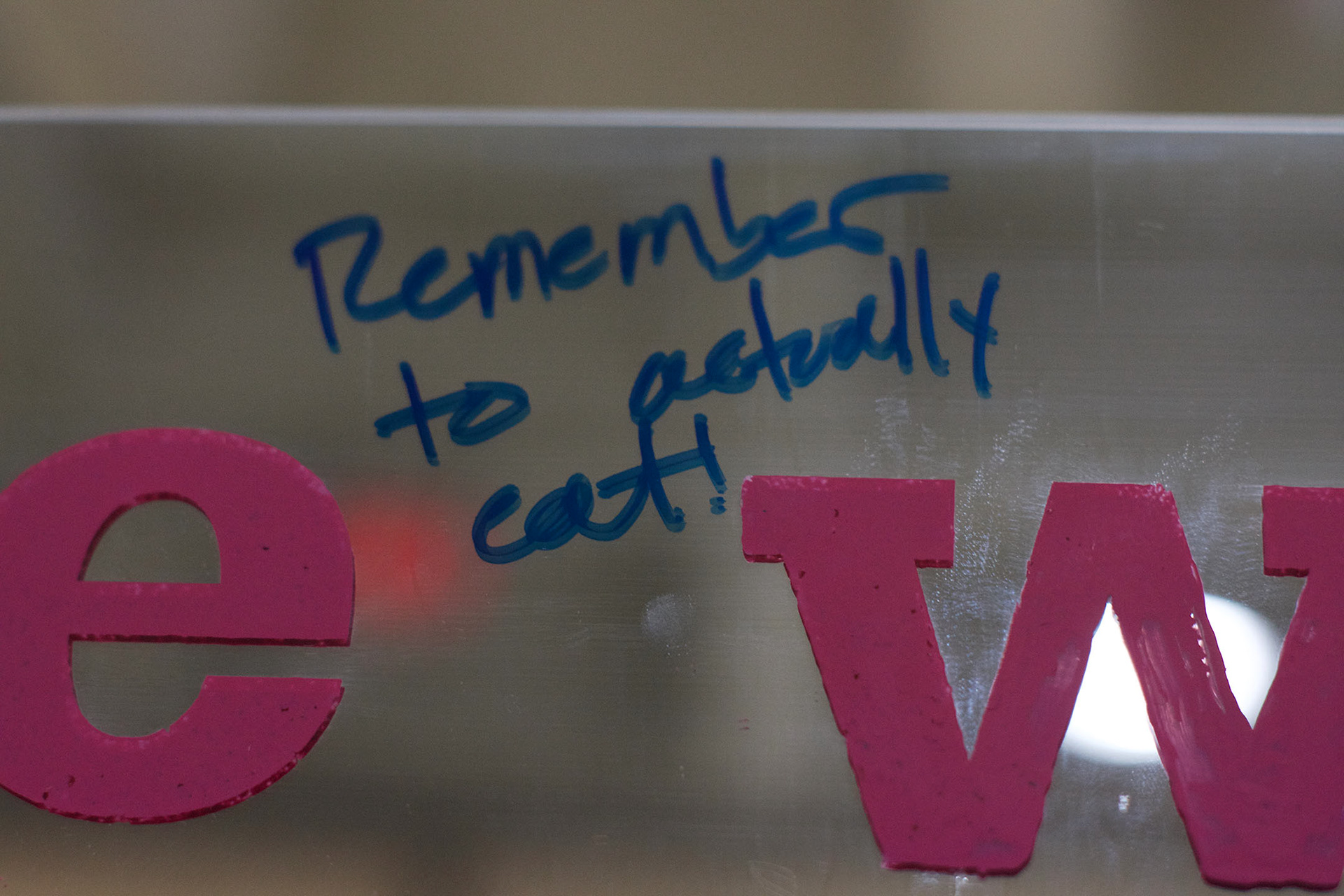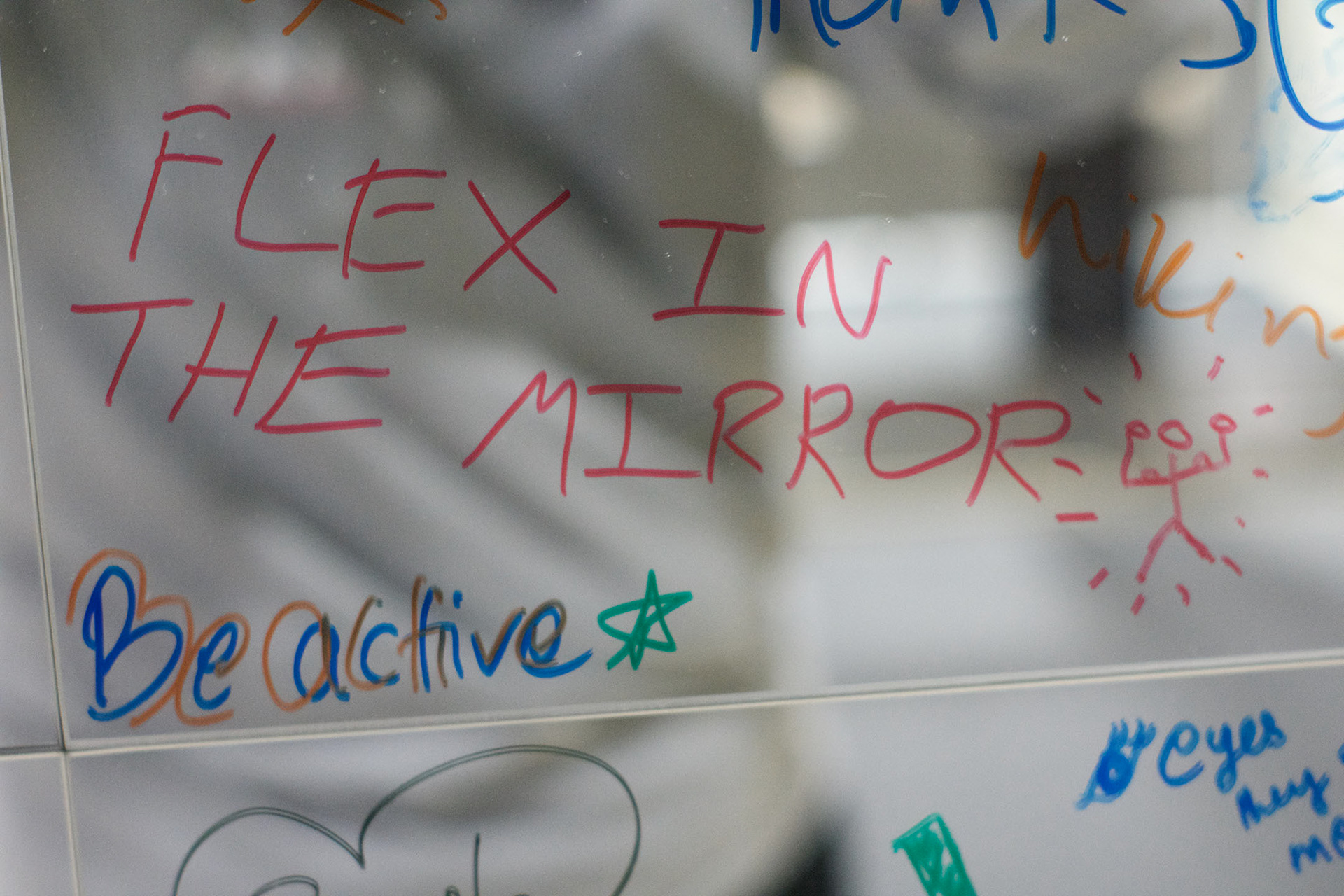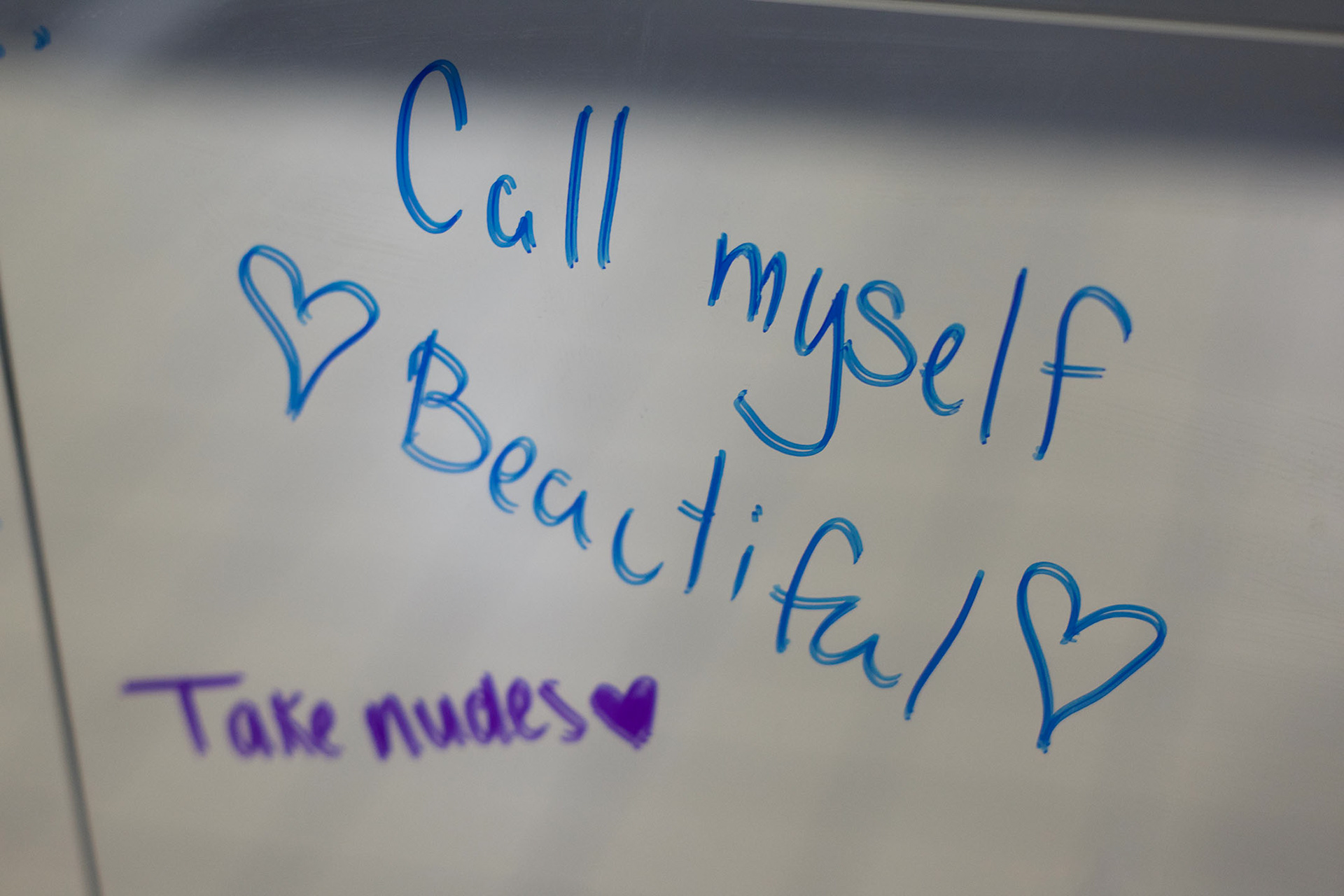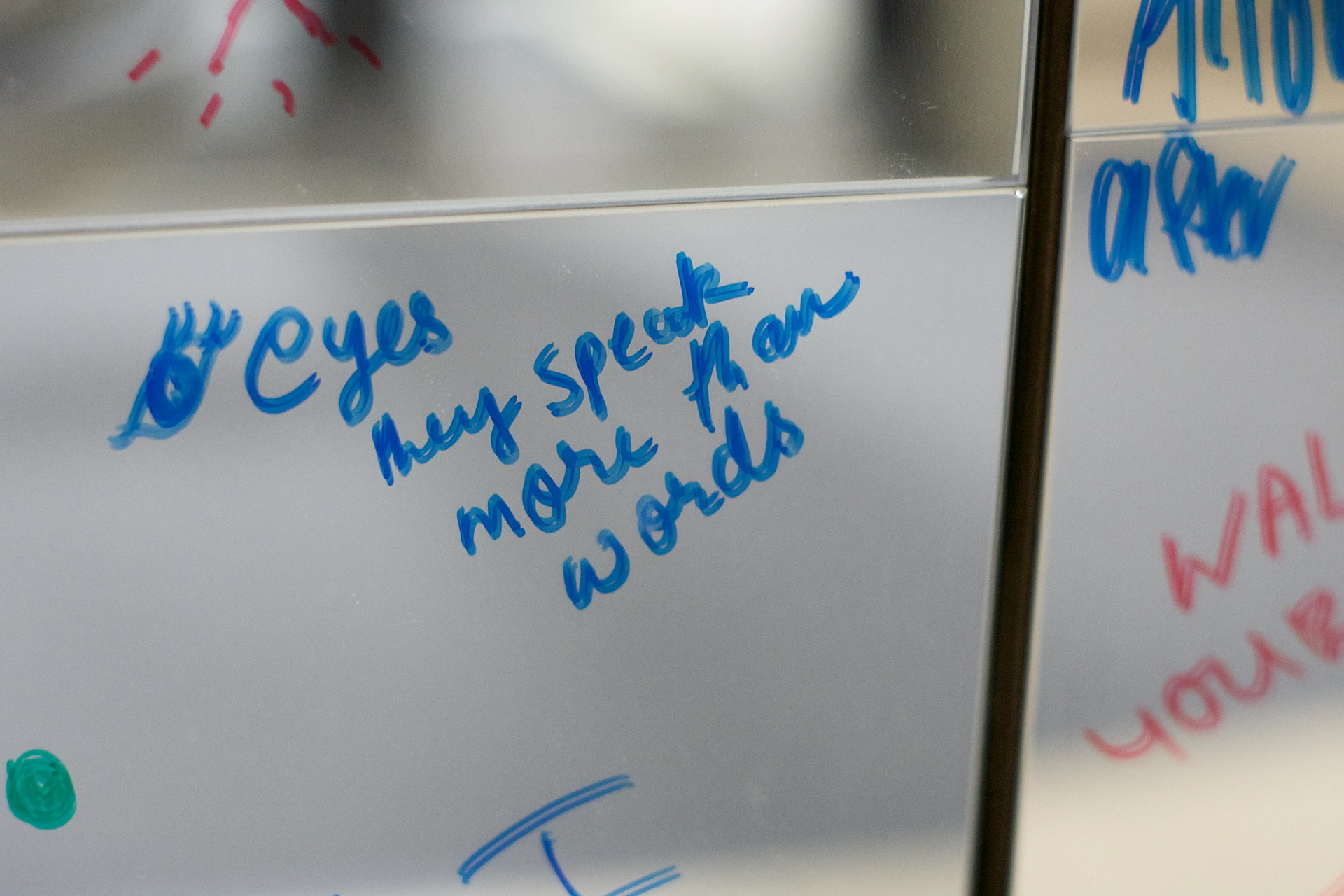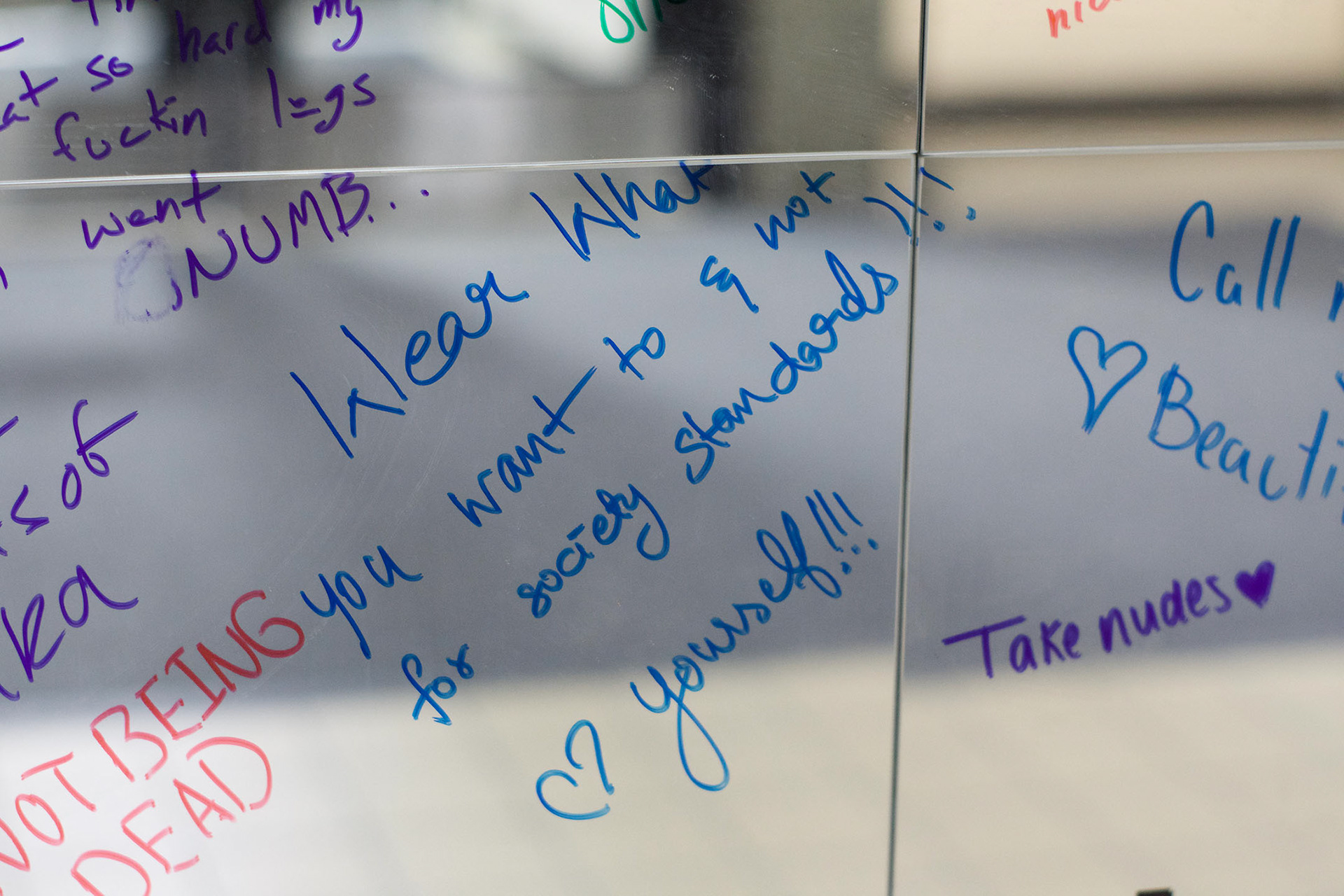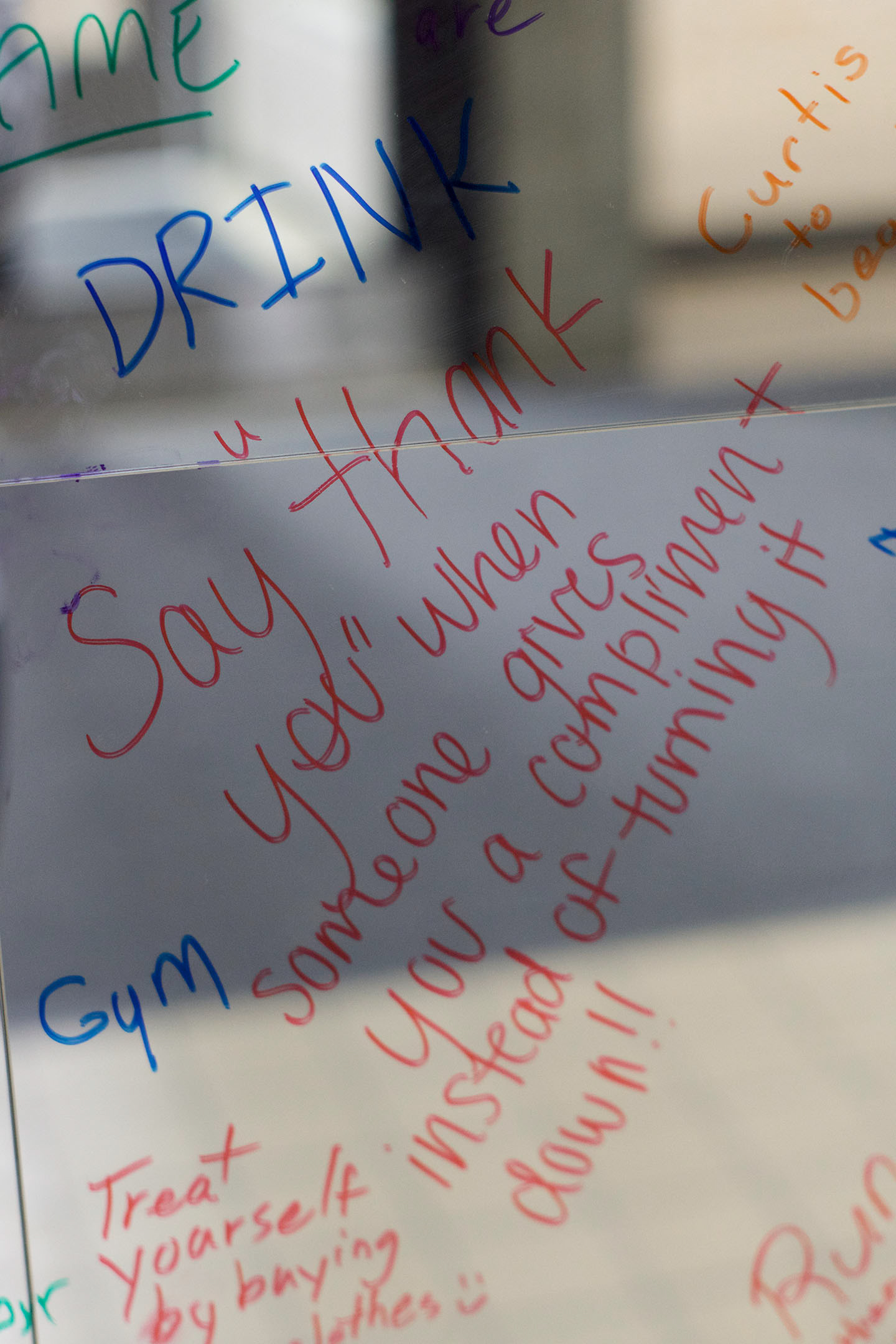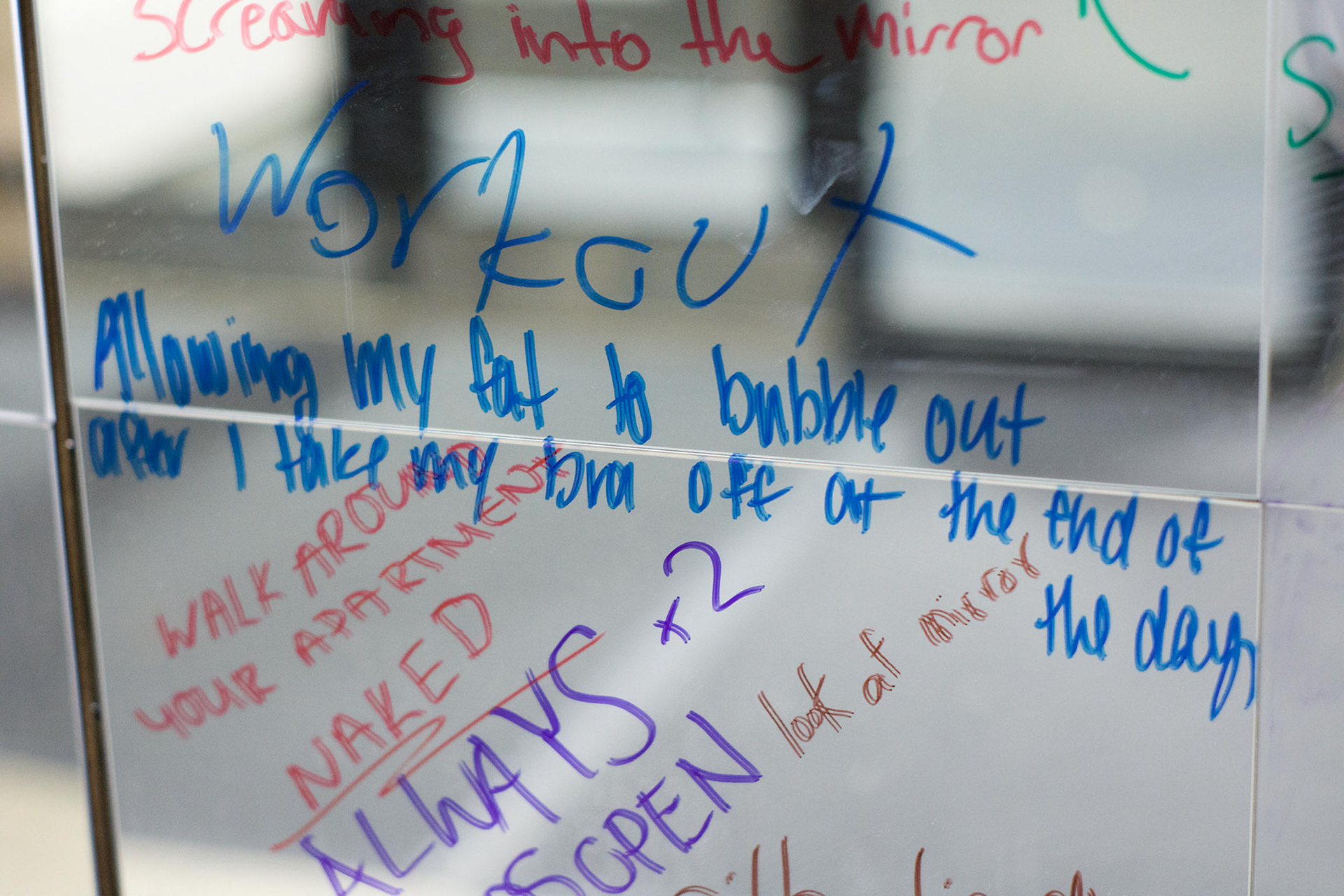 Teal Question:
What helps you deal with stress in a healthy way?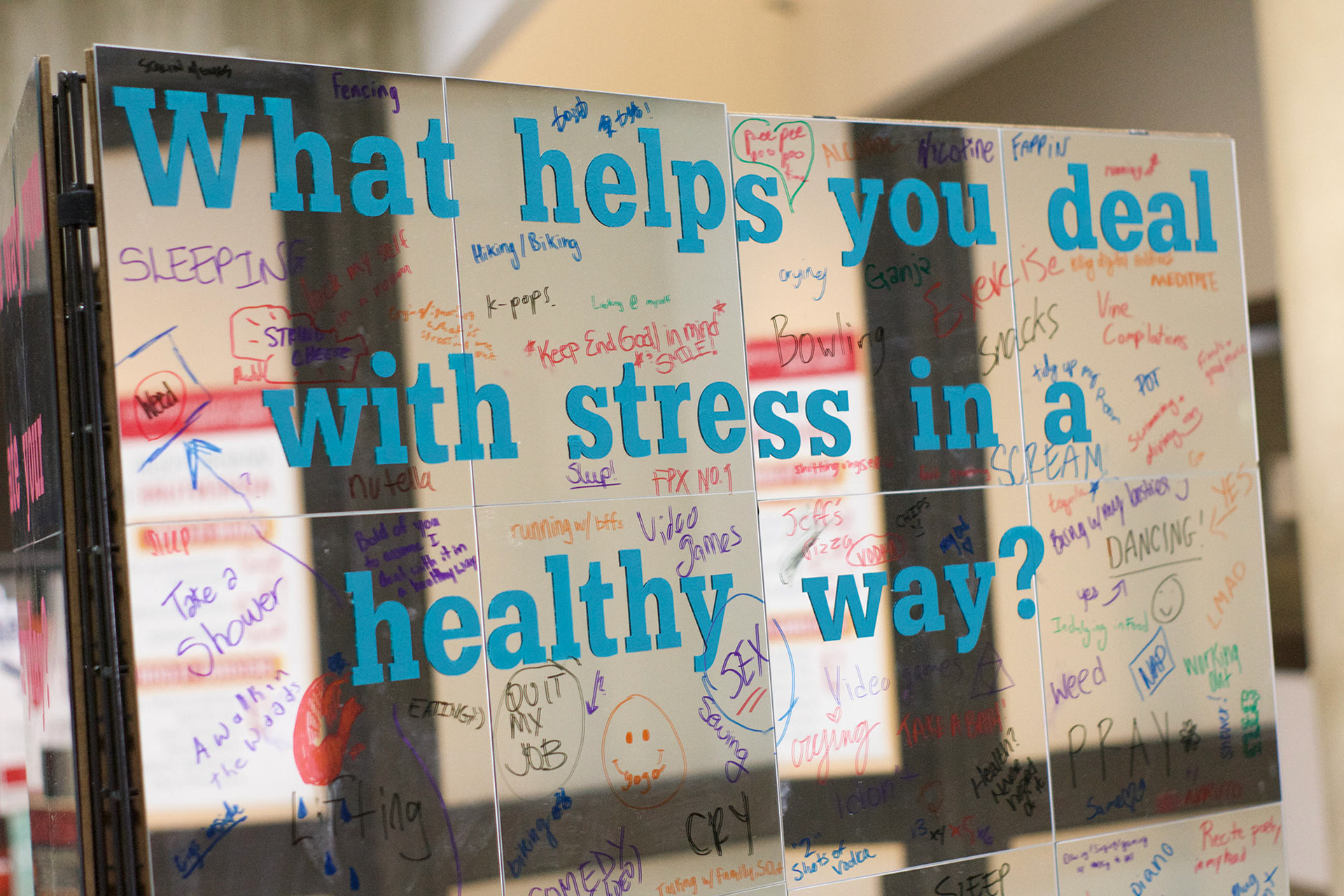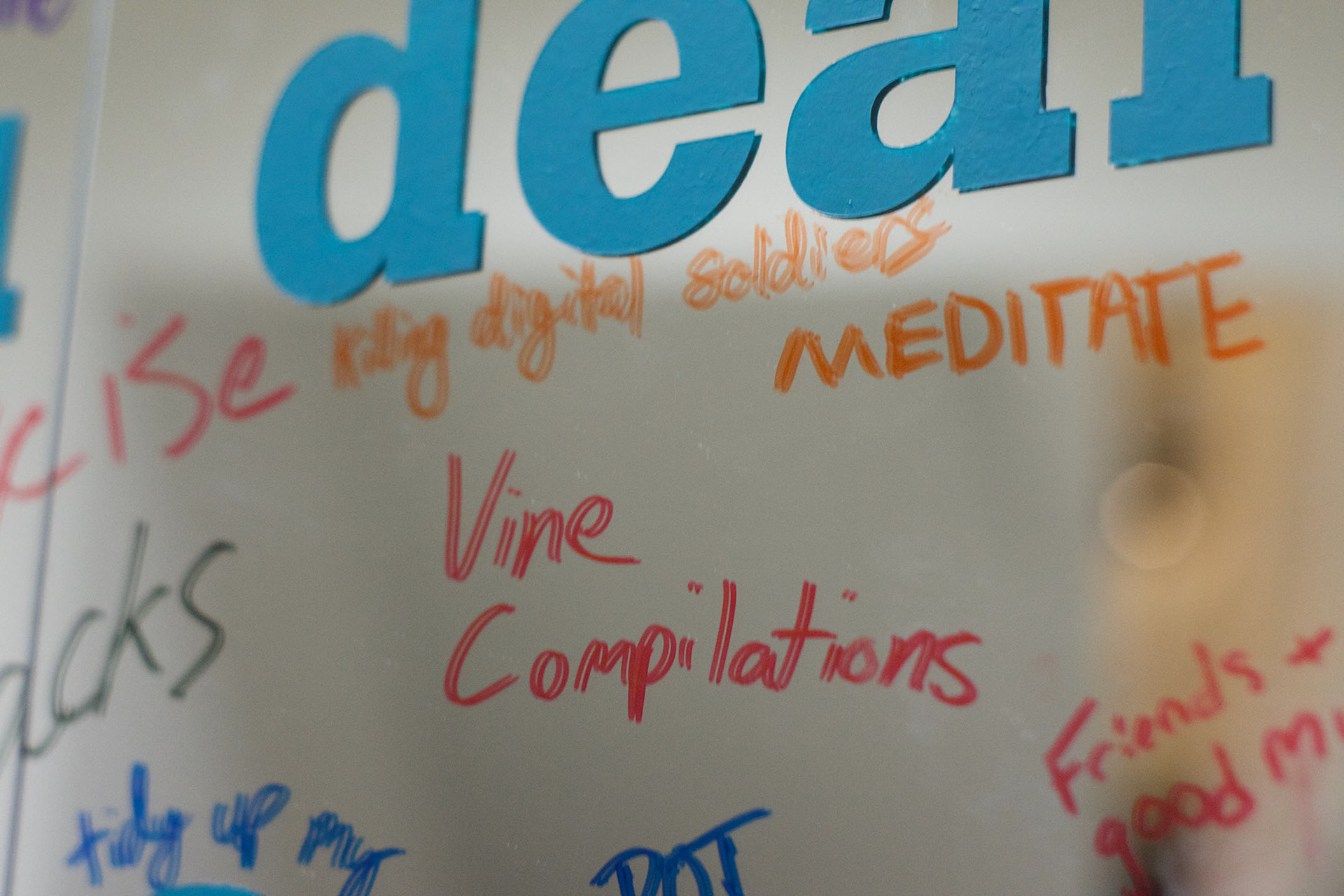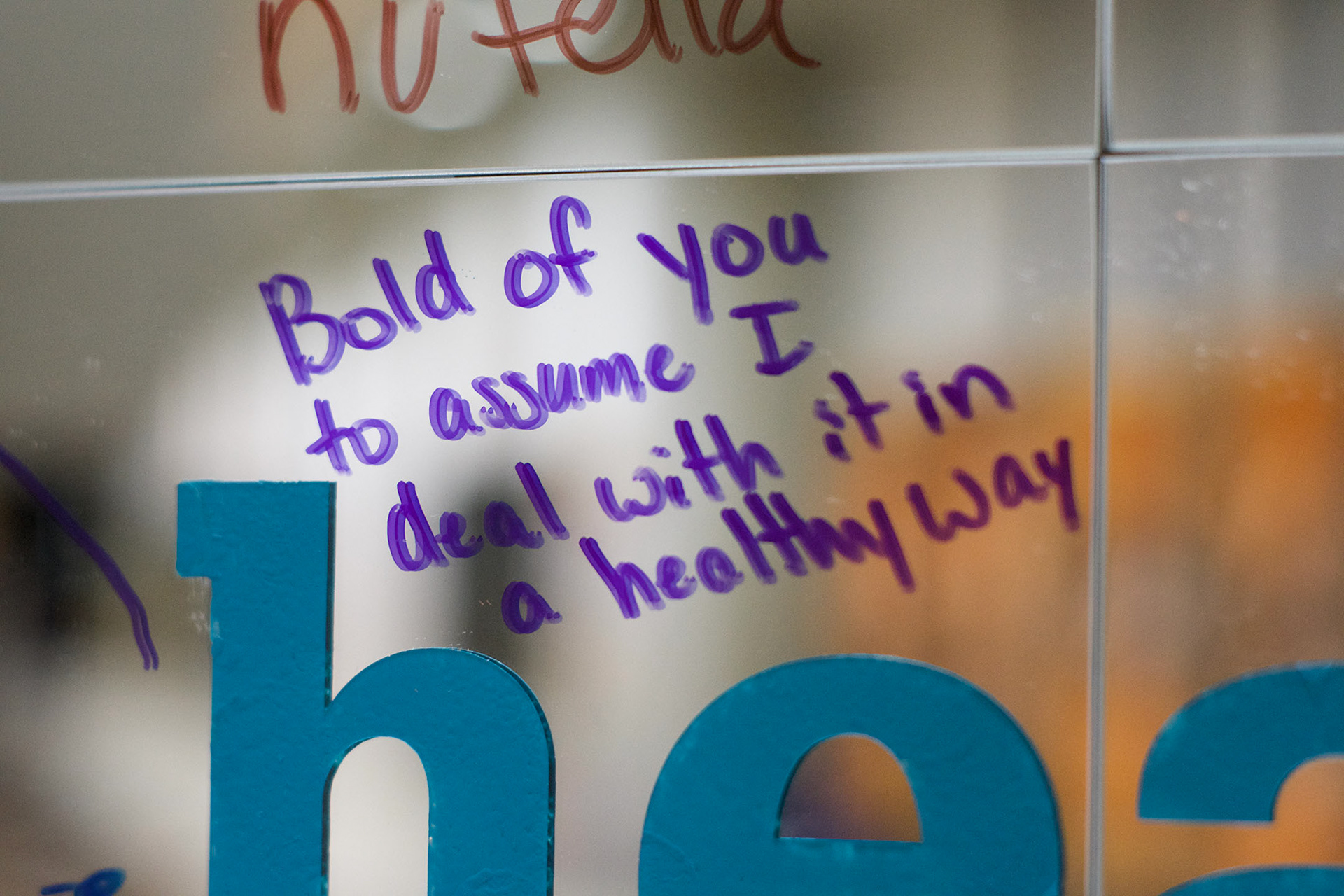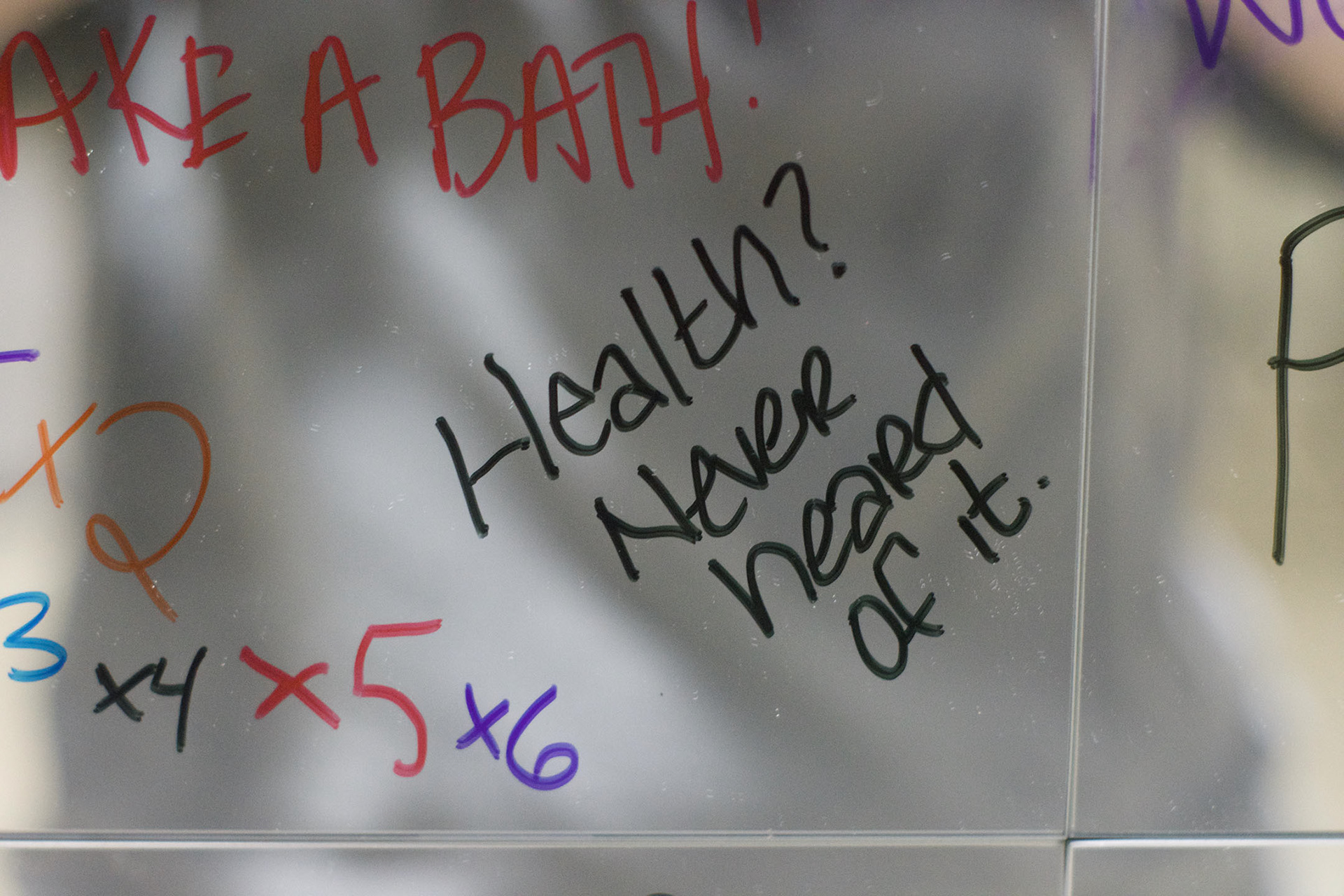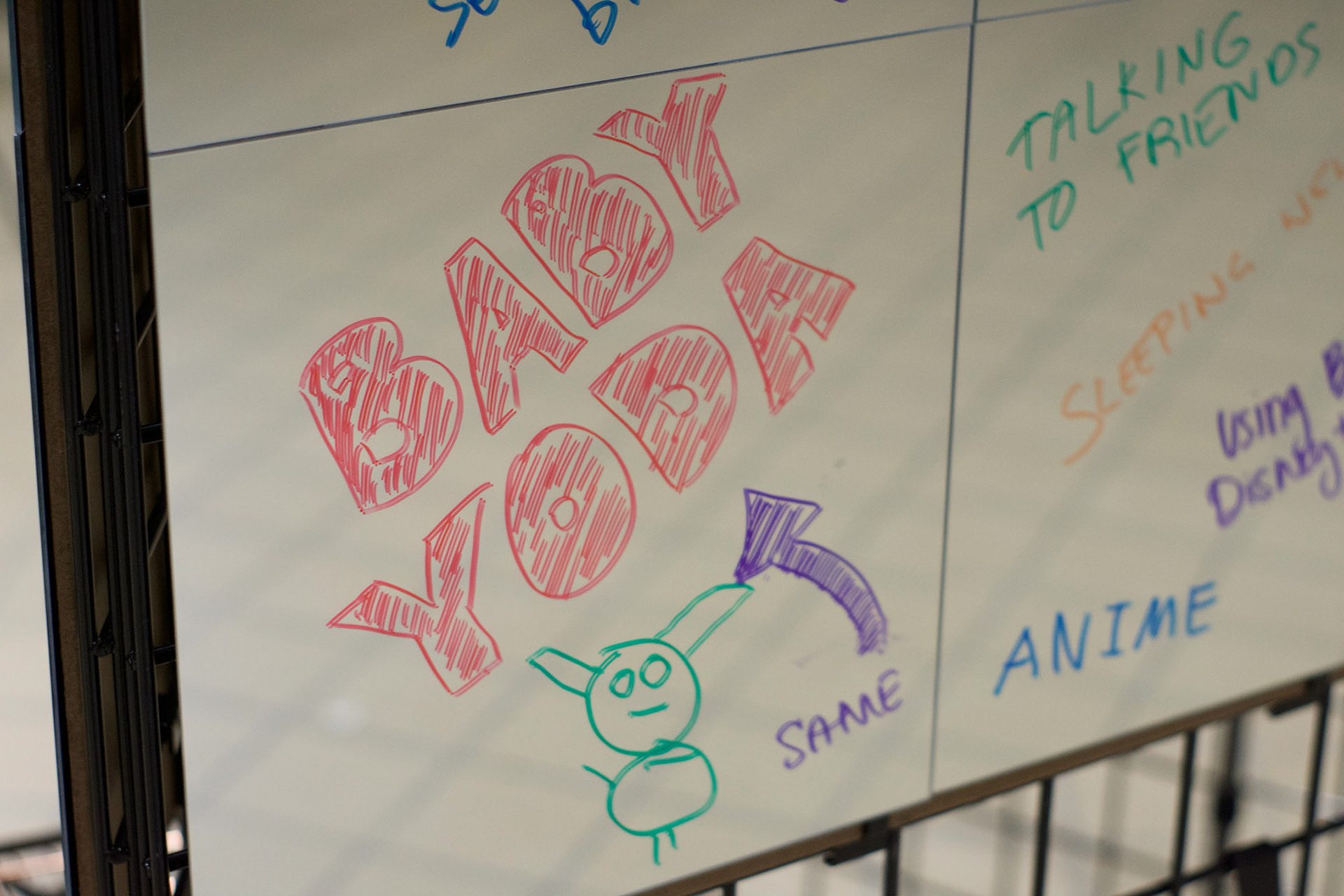 48
12"x12" Frameless Mirrors
6
2'x6' Wire Grid Display Racks
7
Rolls of Mirror Mounting Tape
1
Roll of Guerilla Glue brand Tape
Silhoette Cutting Machine
Vinyl Stencils
Vinyl Transfer Tape
Paint
Overhead Expo Markers
Each panel was filled with 8 mirrors in a 2'x4' manor. The mirrors were first taped together with the Guerilla tape, and then mirror mounting tape was used to attach a panel to the back of the mirrors. The Silhoette machine was used to cut out the vinyl stencils for each question which were then applied to the mirrors, painted and then peeled off to leave only the painted phrase.
The wire grid display racks were then set up in an equilateral triangle, and the mirrors were hung with metal display hooks on the bottom and guerilla tape at the top. Overhead Expo Markers were then available in baskets below the mirrors on each side of the triangle for the audience to write answers with.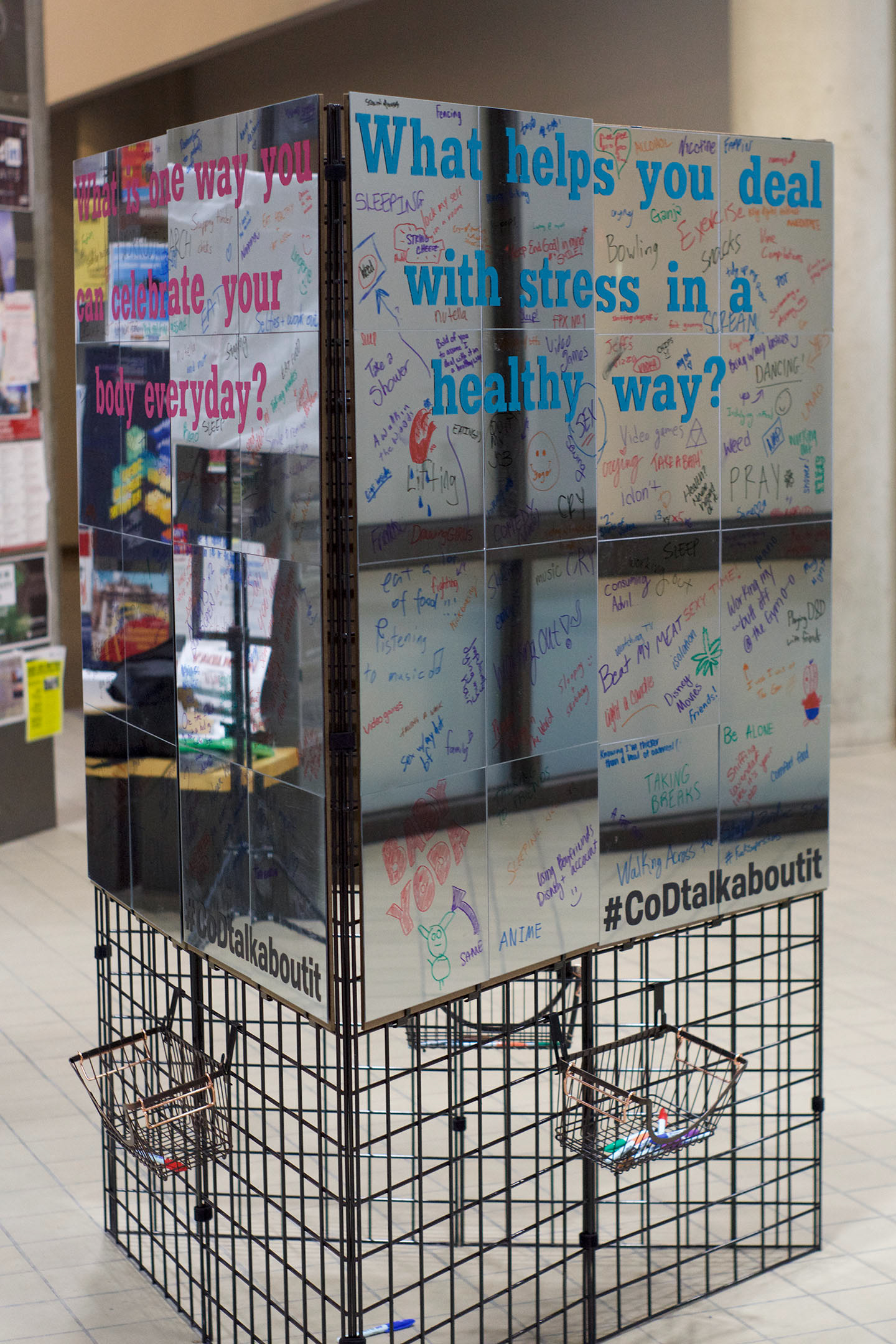 The official exhibition was located in the Iowa State University College of Design atrium right inside the front doors to the building. This exhibition took place over a time period of 4 days, December 3rd-6th, 2019 where students, faculty, employees and any visitors were invited to write their answers to the questions on the mirrors. The audience could also choose to take a picture of themselves in the mirror to post to social media with the tag #CoDtalkaboutit.
• Positive and negative answers were given
• References to current Pop Culture were found
• There were several really inappropiate answers
• Results reflected the atmosphere of the College of Design 
and of society around campus
• A few answers were of a deeply concerning nature
• When I would check on the exhibition, many people would openly start conversation with me on the spot about these topics
• A multitude of answers had to do with self-harm, sex, drugs or alcohol.
This project was an interactive exhibition that was in relation to the field of experiential design. The exhibition was, in the broadest sense, a success with execution and results. The most surprising element to me was how many people were willing to be disrespectful with their answers on what was known to be a student exhibition. Answers provided an outlook on what the atmosphere of the College of Design is. Instigating conversation about body image and mental health lead to both positive and negative answers to the questions provided. Even a current Pop Culture reference, that had just recently started circulating social media, to the major Star Wars character Baby Yoda was found.
After everything was said and done for this exhibition, I am proud of how this project turned out. There are minor details I would change within assembly of the mirror panels like putting them together on a 4'x4' panel instead of two 4'x2' panels. Using two panels on each side created alignment issues with the questions. Also, I would change how the questions were applied to the mirrors because the acrylic paint that was used scratched off during transport and dissolves when cleaning fluid is used on the mirrors.
If I were to continue this project, I would set up more exhibitions in different settings and communities. The hashtag would be changed to fit a campaign so it can be used in multiple locations. I would even try changing the questions, maybe within a different hot topic, and putting the exhibition back up in the same location. I am so interested in creating ways for conversations to be started about social change while also getting the audience to be interactive. The experiential design world has me intrigued, and I intend to do many more experimentations within this field of design.